OS-Climate Technical Deep Dive Sessions
Learn how you can contribute and make a difference! Join OS-Climate virtually on Wednesday, December 1st, 9:00 AM – 12:00 PM EST for technical deep dive sessions on our Open Source solutions.
Data Commons
Extraction/Transformation of Corporate and other Data from structured and unstructured sources
Physical Risk & Vulnerability Modeling
ITR (Implied Temperature Rise) Tooling and Methodology
For the agenda and registration, please visit: https://www.eventbrite.com/e/os-climate-technical-deep-dive-sessions-tickets-203477555847?aff=ebdsoporgprofile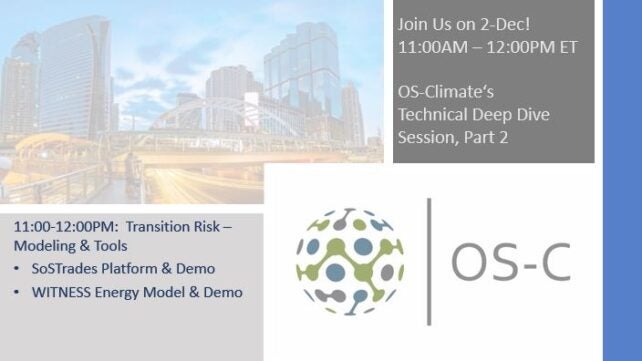 COP26
Global leaders in sustainable finance, investment, and open source technology, along with OS-Climate Members came together to present the OS-C platform. The platform is designed to rapidly accelerate the shift of global investment away from GHG-intensive and climate-vulnerable companies, technologies, and infrastructure towards sustainable solutions which drive mitigation, resilience, and adaptation. 
Major speakers included: 
David Blood

, GFANZ Portfolio Alignment Chair

 

Rich Sorkin

, CEO, Jupiter Intelligence

 

Catherine Jestin

, EVP, Airbus

 

Rim Tehraoui

, Global Group Chief Data Officer, BNP Paribas & OS-Climate Governing Board Chair

 

Margaret Kuhlow

, Global Finance Practice Leader, WWF

 

Gunther Thallinger

, Chair, Net Zero Asset Owner Alliance

 

Tianyi Luo

, Director, Aqueduct Project, World Resources Institute

 

Dickie Whitaker

, Chief Executive, Oasis Loss Modelling Framework

 

Fabio Natalucci

, Co-Chair of Bridging the Data Gap Workstream, NGFS

 

Jim Whitehurst

, OS-C Senior Advisor, formerly President of IBM and CEO or Red Hat

 

Meryam Omi

, COP26 High Level Champions Team Member

 

Chris Wright

, CTO, Red Hat

 

Sarah Bloom Raskin

, former US Federal Reserve Governor

 

Jim Zemlin

, CEO, Linux Foundation

 

Fiona Reynolds

, CEO, PRI

 

 
See the full list of speakers: https://osclimate2021.sched.com/directory/speakers 
Watch Videos from the Event
!
Introduction & Advancing the Investor's Climate Agenda with Open Source/Open Data 
Speakers: Truman Semans, Daniel Godfrey, Richard Peers, Fiona Reynolds 
Summary:  Get an overview about OS-Climate and why it matters to sustainable investor stakeholders.  
Watch Here
Fireside Chat: What is Open Innovation All About? A Conversation with the Linux Foundation and IBM 
Speakers: Jim Whitehurst, Jim Zemlin 
Summary:  Learn how the sustainable finance and investing community can benefit from Open Source technologies and practices, as well as how these best practices have driven many innovative breakthroughs in other problem areas.  
Watch Here
Panel: How Can Open Data and Open Source Advance Climate Policy Goals? 
Speakers: Sarah Bloom Raskin, Meryam Omi, Fabio Natalucci, Bob Litterman 
Summary:  Learn how the OS-C platform supports the implementation of sustainable financial policies as well as standards. 
Watch Here
Overview of OS-Climate, the OS-C Platform & Data Commons 
Speakers: Ton van Welie, Truman Semans, Thomas Kirchherr, Vincent Caldeira 
Summary:  Learn more about OS-C's vision, mission, and goals. Hear about how the platform is being used to solve real world problems for its members and the financial community. Understand the Data Commons' high-level architecture, as well as the importance of treating data as code to manage data ingestion, access/security, and lineage.  
Watch Here
Data Commons Panel Discussion 
Speakers: Vincent Caldeira, Ana Pinheiro Privette, Michael Tiemann, Christian Meyndt, Lauren Smart, Ashlyn Belding 
Summary:  Hear from members about how they are supporting the OS-C platform with data sources, data extraction methodologies and data governance. 
Watch Here
Executive Insights: Role of Open Source in mitigating Climate Change 
Speakers: Chris Wright 
Summary:  Hear about the importance of open source in solving complex problems like Climate Change. 
Watch Here
Executive Insights:  What Major Challenges in Finances & Investment Do Financial Institutions and Companies Face Regarding Climate? 
Speakers: Jim Whitehurst, Catherine Jestin, Rim Tehraoui, Hani Kablawi 
Summary: Hear from key executives on the challenges facing the financial and investment community, and where OS-C can address gaps in data along with tools.  
Watch Here
Federated Hermes and GFANZ Keynotes, plus Building Open Source Portfolio Alignment Capabilities 
Speakers: Christopher Donahue, David Blood, Leyla Javadova, Bert Kramer, Jared Westheim, Girish Narula, Jaakko Kooroshy, Maarten Vleeschhouwer, Margaret Kuhlow 
Summary:  Hear from our keynote speakers about the importance of aligning portfolios to Net Zero targets. Learn more about the Implied Temperature Rise (ITR) tool that is built on the OS-C platform.  Hear from a panel of key stakeholders about why tools like ITR are important in driving action and changes in investment strategies.  
Watch Here
Physical Risk Tool Session 
Speakers: Matt Sandoe, Joe Moorhouse, Nikolaos Dimakis, Rich Sorkin, Constance Chalchat, Dickie Whitaker, Tianyi Luo 
Summary: Learn about how we are incorporating Physical Risk analysis into the OS-C platform. Watch a demo of the vulnerability tool.  Hear from a panel of experts on the importance of modeling the financial impacts of perils (wind, flood, fire, etc) in driving financial investment decisions.  
Watch Here
Overview & Demo of Witness/SOSTrades 
Speakers: Thierry Chevalier, Matthieu Meaux 
Summary: Hear about plans to incorporate transition risk modeling and Airbus' Witness tool into the OS-C platform. Watch a demo of the tool. 
Watch Here
NZAOA Chair – Call to Action & OS-Climate Chair – Summary 
Speakers: Günther Thallinger, Truman Semans 
Summary:  Learn more about achieving NetZero through sustainable finance investment and  how you can help. 
Watch Here
Thank you to all our COP26 speakers, event organizers, and participants!